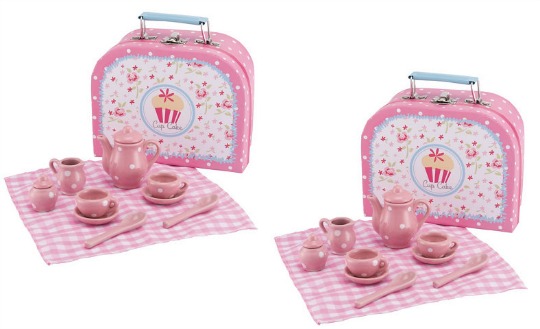 Jeezo! It's not often you get such a lovely play set for so cheap. The ELC Cup Cake Dolly Tea Set is reduced to just £2 at the Early Learning Centre. It was originally £8 and even that seem like a very good price for it. If you have a child that likes role play games or has a dolly or teddies that they like to 'picnic' with them this will put a smile on their face. How about tucking away for any unexpected party invites?
So, what do you get in the ELC Cup Cake Dolly Tea Set for £2? Two Cups, two Saucers, two Spoons, Milk Jug, Tea Pot and Napkins. Each piece in this set is made from pink with white polka-dotted ceramic. The napkins are made from material. Plus it all comes packaged in a reusable suitcase style carry case.
I am sure you will agree that £2 is an absolute steal for a little ceramic tea set. I would have loved such a true to life set as a little girl.
You can collect the ELC Cup Cake Dolly Tea Set for FREE from your nearest Early Learning Centre store or pay £3.95 for home delivery.