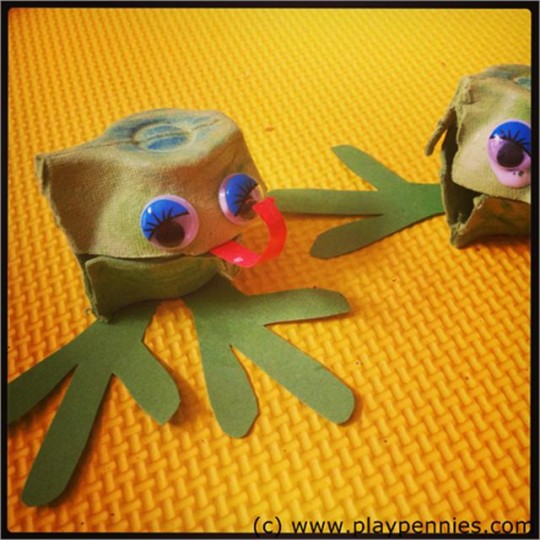 I find on the days where we have the whole, or most of the day at home, that it is easiest to choose a theme and work around that theme all day. Otherwise, if we can do anything we want, we often end up not doing very much. I just end up spending most of the morning surfing around Pinterest, and it turns into something of a very long non day.
Throw a theme into the mix, or a subject, and things change. I'll often ask my oldest what she wants to learn about today, and go with that. This day it was frogs.  I knew we had some story books that at least had a frog in them, so I got those out, had a quick Google for inspiration and gathered some art supplies.
To make these egg box frogs, you will need:
Egg carton

Green Paper

Red Paper

Googly Eyes

Glue

Scissors

Crayons
Crayons and colouring are non-essential items, and don't add dramatically to the frogs - paint would be much better - but I wanted to drag the activity out by an extra 3.6 seconds or so (that being how long it takes my daughter to make a squiggle and then be 'Finished Mum!!'
Cut the egg cartons down to individual frog sizes. I had to take some off the bottom of each to get them to match up in size.
Hand to your toddler to colour, while you cut out the feet and tongue. You can just cut a strip for the tongue and cactus-like feet or use your imagination and see what you come up with.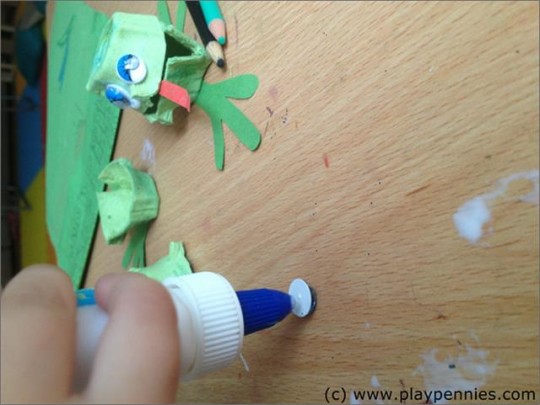 Glue the feet to the bottom egg cup, and the tongue inside, and glue or draw some googley eyes onto your frog.
While we were waiting for the glue to dry, we read a couple of children's books that featured frogs.
Once dried, we did frog hops and used the frogs for races around the living room, burning off some energy.
Then, the little  one took her frog (the one I made, since she's only 15 months old!) and proceeded to pull it apart, but the bigger one sat and played in the coloured rice with her frog "Ribbit" for at least long enough for me to clear up from our arts and crafts!