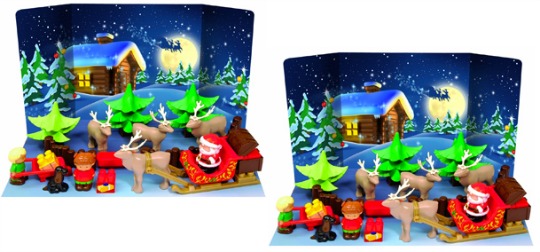 Are you on the lookout for an advent calendar that is minus the chocolate? The Lego ones are lovely but they aren't cheap. This Ecoiffier Abrick Advent Calendar at Home Bargains is only £7.99, just now. Not bad at all, for one of these "alternative" advent calendars. The next cheapest I can find is at £13.32 from Amazon. This really is a good buy! It's available instore or online at this great price.
Behind all twenty four windows of the Ecoiffer Abrick Advent Calendar is a special gift for your little one. I really like the fact that this one is suitable for children aged 18 months and above. By adding all of the daily gifts together, you can build a nice Santa and his sleigh scene.
By the time Christmas Eve comes, your child will have this nice playset, complete with all the characters and accessories. At least this is a happier scene, than the Lego City one, with it's minifigure robber stealing all the Christmas presents.
You can get the Ecoiffier Abrick Advent Calendar delivered for £3.49, or chance it and see if your local Home Bargains have these in stock.
Thanks to MichITR @ HUKD