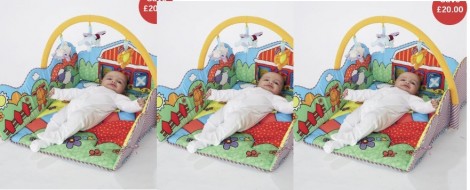 ELC is holding a half price sale on selected items such as Blossom Farm and Perform. The prices have dropped pretty far down making many items much more affordable for those of you on the lookout for great baby toys and accessories.
Some of the items that really stand out for me include the Let's Pretend School set down to £10, the Activity Tiger Woody down to £5, the baby rainmaker for £4, the Blossom Farm 3-in-1 baby gym for £20, the 3 ring pool for £7.50 and the Blossom Farm finger puppet book for £5.
The prices are really good, especially if you are thinking of buying some presents for an expectant mum or for stocking up your own baby's room. There are also items that are excellent for summer fun like the water slide for £12.50 (which looks like SO much fun) and the giant inflatable wheel for £17.50.
Take a look and see if there is anything that takes your fancy, but do it quickly before the stock runs out.
Thanks to billy_whizz at HUKD!