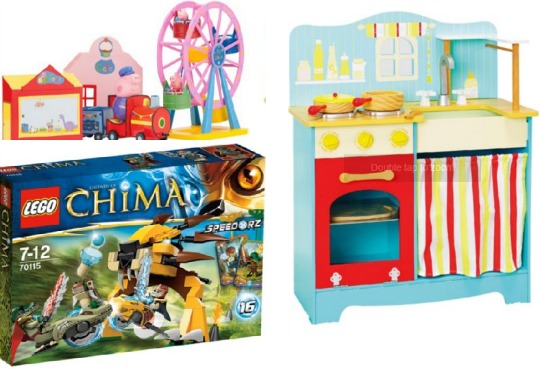 What are you doing this evening? I will tell you what, getting your peepers over to the Tesco Direct Early Bird Toy sale! Get 50% off of selected toys when you use eCoupon TDX-CV4L. If you end up spending £50 or more then , please use this eCoupon TDX-PRT3, as well to get an extra £5 off. There's Lego , Peppa Pig and so much more. Is everything a bargain? No, but read on and I will tell you what's what.
There's plenty of good buys, and a couple of REALLY good buys. For example, this Carousel Wooden Kitchen* isn't worth it's £100 price tag, take off the 50% and it's £50, use eCoupon TDX-PRT3 to make it £45. It's worth that, and a fine alternative to that very popular one at Asda. I like it, as it's unisex.
If it's Lego you are after then, there's a few sets included in this Early Bird event. This Lego Chima set* is good for £7.50 and ideal for those little people at Christmas. You know, the cousins kids, your nieces and nephews, the boy next door etc.
It is well worth a look, after all if you can pick a couple of bits up now cheap, then it saves you shelling out more nearer the festive season.
You can find eCoupons TDX-CV4L and TDX-PRT3, plus much more over at our vouchers section.

Thanks to Torkijo @ HUKD