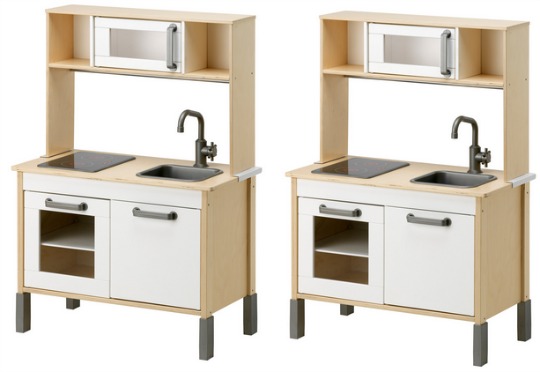 Let me tell you that these are absolutely gorgeous and worth EVERY penny. The Duktig play kitchen is like a real IKEA kitchen shrunk down to toy size. It is very much for boys as well as girls, and we champion any toy like that. If you click on the picture above or the link below, it'll take you over to IKEA but will show you a £65 price tag. Add it to your cart and it is showing at only £49. What a bargain!
What is so special about this Duktig  play kitchen from IKEA? It is just so much like a real kitchen. It's basic looking but you can add as many accessories as your heart desires. The quality is really good for the money and is sturdy, due to the fact it is made from birch plywood. The hot plates on the hob actually light up with batteries, it does NOT get hot though.
It has an oven and a cupboard as well as a hob and sink. I was at IKEA last weekend and I was dying to buy one of these. I would have if it wasn't for the fact we had filled our car to the brim. You can buy extra bits for it, and they seem to be going through cheaper when you add them to your cart, so knows the time to buy them! The top section with Microwave* is going through at £4 instead of £20. The pots and pans set*are £8 and there's so much more you can buy for it.
Delivery costs vary drastically on this item, so apologies if you live in an area (like me) where delivery costs £30. A lot of people that live closer to an IKEA store have been getting charged just £9 to have it delivered.
Thanks to Eelf @ HUKD