Drumond Park Games Review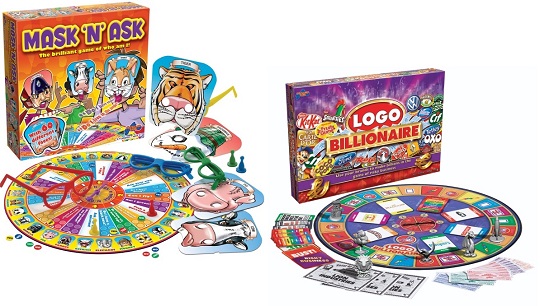 It wouldn't be Christmas without a good game. In our house this is the traditional Boxing Day gift. The present left to open and play with on the 26th. This is what we did when I was a kid and for years I thought that was why it was called Boxing day!
Past favourites have included classics like Connect 4 and Cluedo. Also fun games like Hungry Hungry Hippos and Mousetrap. These also make great Christmas gift ideas if you're buying for a family, or for more than one child and aren't sure what to get them.
It is very rare though that we get to try a game before Christmas though, so the kids were really excited to get a couple from Drumond Park to try out before the big day.
The two games we got were Mask n Ask, which I noticed has been heavily advertised on TV this year, and Logo Billionaire.
Mask n Ask
Now if there's one game you are really not going to want to play with the kids when you have a Yuletide hangover this is it. In fact, I'd really recommend getting this game out and having a good read of the rules before the big day. But, don't let this put you off.
Mask n Ask (£16.99) is a board game that involves everyone wearing silly glasses with masks. That alone is worth the fun! It is a bit like playing 20 questions with props. You have a spinner (no dice, hurrah) and a board with two sides. You can either play the animals side, or the humans side. I use the word human loosely here as character include a werewolf, snowman and Frankestein's monster along with a doctor, cowboy and Queen Victoria.
The game can be played with 2 to 4 players and is recommended for ages 7 up. I think younger children will really need a lot of help getting started, but once they've got the hang of the rules you'll be able to leave them to play happily.
I could see how it was possible to put the masks on without seeing who you were wearing, but actually the glasses clip on to the masks quite easily while they are face down.
This game was a big hit with my son who also really likes playing 20 questions. I guess that's what we'll be doing on Boxing day. Here's a tip for grownups. A Bailey's for every question you get right!
Pros: well built game, lots of silly fun
Cons: you know they're going to want to play this with you!
Overall verdict: 9 / 10
Logo Billionaire
At this materialistic time of the year why not go the whole hog and get a capitalist inspired game as well? You'll be wanting Logo Billionaire then (£17.99 Amazon*)
This board game is in the Monopoly genre of board games. The idea is to be as ruthless as possible to win. You collect brands to build companies, trade and buy brands from other players, and try to avoid takeovers. The bigger the risk the greater the potential reward - but the cost of failure is also higher.
Again, this is a game you are really going to want to look over before hand to familiarise yourself with the rules. It isn't that complicated really but to be honest, this was a boring game for me. I just don't get the whole ruthless aspect I suppose.
For us as a family one of the big fun aspects of Monopoly is that you can build alliances and make deals. Well maybe you're not supposed to but we do. I might not have a lot of cash but if you let me buy Fleet Street for just twice its value so I've got the whole set I promise never to charge you rent when you land on that square.
Of course that means that eventually no one wins, but we have an enjoyable few hours in the meantime.
I just wasn't getting the fun factor with this game, and I didn't find it a funny, noise game either (this is what it says on the box).
Maybe if you like playing Monopoly in a more cut throat way then this is the sort of game you'll enjoy!
Pros: well built game, brands you recognise, competitive
Cons: a little bit boring for me!
Overall verdict: 5 / 10