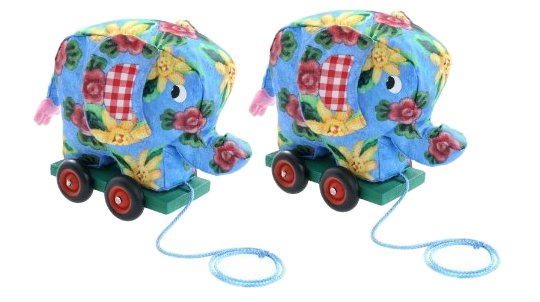 There's 66% off the gorgeous Driver Dan Pull Along Tallulah elephant at Amazon. It's selling for £8.40 instead of (a rather over the top for a pull along toy) £24.99. Delivery is Free too.
My daughter just loves Driver Dan, and as it's on CBeebies bed time hour now, we'll sometimes let her watch it if I'm finishing up work, or dinner, or we've run out of activities for the afternoon. She's a little beyond the Pull Along toy age, but I bet if I bought it for her sister, my toddler would love it as much, just for the Driver Dan element.
This Tallulah sways when you pull her along, and when you squeeze her, you'll hear one of five phrases. She sits on a plastic wheel base and is attached to a bit of string and is easy to pull along.
They do say that she's appropriate for children over 3 years of age, which surprises me a bit. Aren't they somewhat 'over' pull along toys by that stage? I've never had a three year old, so I'm not sure. Either way with £16.59 off, I'm sure you'll find someone who loves it!
Thanks to dudebar at HUKD