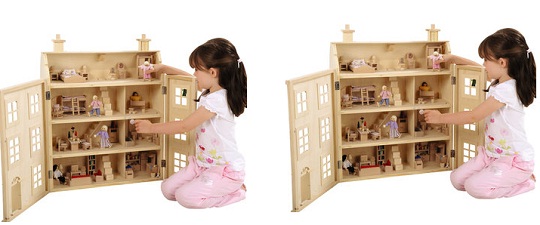 This doll's house on sale at Toys R Us is down from £99.99 to only £49.99 which is half price just in time for Christmas gift buying. It is enormous – well it looks big from the picture – and you can only buy two per order. How interesting. What's really irritating is that you have to pay £4.95 for delivery as it is 1p off free delivery!
This fantastic wooden doll's house comes with 50 pieces at a 1:16 scale. You get furniture, accessories and dolls and the house runs over four storeys with hinged opening front door and a removable roof.
You get the doll family that consists of mum, dad, boy, girl and baby, you get dining room, kitchen, sitting room, bedroom, kid's room and bathroom furniture and accessories, and you get hours of imaginative play. The house DOES come with magnets though so be warned about that.
This would make a superb Christmas gift!
Thanks to twinkleplease at HUKD!