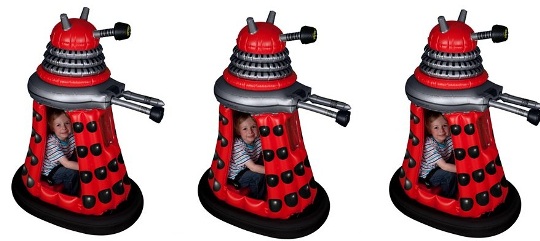 I found this exact toy on sale on Amazon just before Christmas and it had been reduced to £79 (or thereabouts) which was still very expensive in my books. Although, according to Amazon, it originally cost in the region of £179.99. This is far more reasonably priced at £44.75 for those of you still looking for a ride-on Doctor Who Dalek.
The Doctor Who ride-on Dalek is 6V and will need to charge for hours and hours before kids can get about one hour of fun out of it each time. I think this is a massive downer, especially for kids, but perhaps for some is worth it?
The inflatable Dalek is powered by a 6V motor that lets kids take control and turn themselves into the Doctor's nemesis. There are 10 sound effects and Dalek phrases and kids can steer it up to 3km per hour.
Thanks to Stercus Accidit at HUKD!