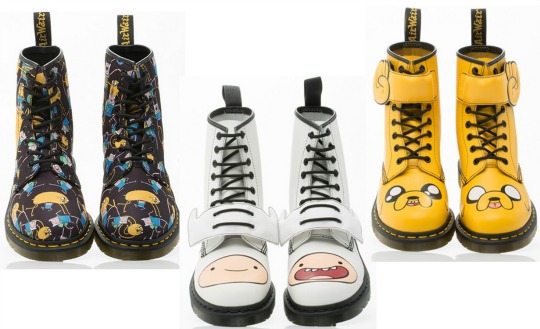 If you constantly have Cartoon Network on in your home then you will know exactly what Adventure Time is. I am a tad excited about what I have found out today simply because I know my boys will go crazy when I tell them... Doc Martens are teaming up with the popular Children's programme Adventure Time. That's right, from the 1st March this year you will have a chance to get your hands on some funky footwear with those two crazy character; Jake and Finn on.
There's a total of three designs available with two of them limited editions. The white Finn Doc Martens and the yellow Jake have only 1460 pairs created so you may struggle to get your mitts on these. I am going to try my best to get a pair each for my boys.
The third design is black and features a pattern of Finn and Jake all over them. I tried to find out a rough price for these but I couldn't. One things for sure, they won't be cheap and I am going to guess £60 or £70. What do you reckon? Doc Martens are hardy footwear so I don't think they will be below £50, if they are I will be over the moon!
We don't have any details of what retailers will be selling these special edition Adventure Time Doc Martens but we will let you know as soon as they are available.