DNA Art - The Ultimate Personalised Gift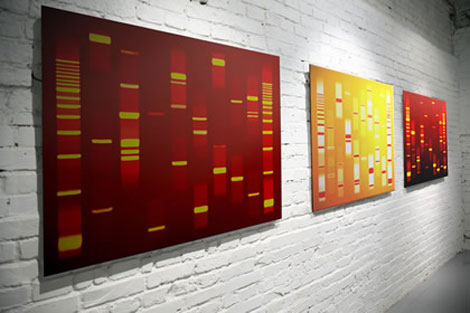 Yes, we're all about saving money here at PlayPennies but sometimes I come across things which aren't cheap, but are so good I want to share them with you.
DNA Art is one of them!
I am a huge fan of personalised gifts - the most ordinary things can be made special and very personal, with a little bit of thought.
But having a piece of art work made using your DNA has to be the ultimate and I'm utterly obsessed with it.
If this had been around when all of my children were born, I would have had a canvas print of each of their DNA made.
The Teenagers are 16 and 15 today (in fact, for seven and a bit hours they are both 15 and 15!) and I'd love to be giving them their own unique piece of DNA artwork for their birthdays - I found this a bit too late for that though.
AND...with prices starting at £295 for a 60 x 40 x 3.8cms canvas, buying two at the same time is just a bit painful.
I did SAY they weren't cheap, but they aren't small either and you can go really big if you want to!
This will only appeal to unique art-lovers who want something that's really special, will be a talking point, and something to treasure, for years to come.
I'm getting married in a few weeks time and a side-by-side 'Mr and Mrs' canvas print of our DNA would make a fantastic wedding present too.
If you're happy with a mass edition printed canvas from Ikea, then great! Pop along there and enjoy, along with some meatballs and chips in the restaurant not forgetting to buy at least two bags of 100 tealights, that you don't need, on the way out.
But if you want fancy saving up, or have some money stashed away, for something r e a l l y different, and VERY arty, then explore DNA art a bit more.