Disney Princess 2-in-1 Training Bike £27.99 @ Home Bargains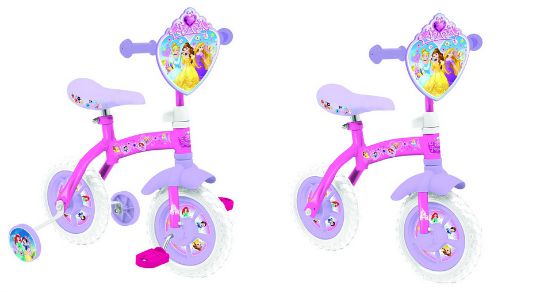 New to Home Bargains is this Disney Princess 2-in-1 Training Bike which is selling for £27.99. The RRP is £44, Amazon are the next cheapest at £34, and Tesco are charging a whopping £60!
This Training Bike is suitable from around 2 years of age, and can be easily converted from a balance bike to a pedal bike. It also comes with removable stabilisers so that your child has a choice of ways to learn how to ride.
It has a sturdy steel frame, adjustable seat and handle heights, puncture proof tyres, direct pedal power so no chains, and front mudguards. As well as all that this bike is covered in pictures of Disney Princesses on every available surface, including on the wheels!
This Disney Princess 2-in-1 Training Bike can be collected for free from Home Bargains stores, or home delivery charges vary according to the size of parcel and location.