Disney Princess Pop Up Pool £6.25 @ Tesco Direct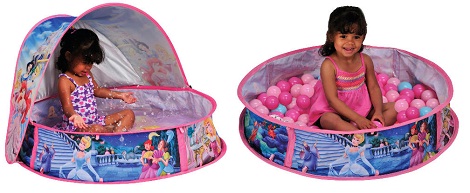 Now before you think I'm nuts, these pools make good ball pools too. Plus you could buy in advance to use for next summer! Tesco has reduced the price of the Disney Princess Pop Up Pool from £25 to £6.25. Delivery is free if you can collect from the store.
Another potential use for the pool is to fill it with sand. Although, like the water, that's more of an outdoor activity. If you are going to buy one of these to store away for next summer (always a good idea, plus you'll be prepared if we get an unexpected heat wave in Spring like we did this year. Sigh, that seems forever ago now) you'll be pleased to know that it comes with a 50+ UPF sunshade.
As already suggested, you can use water, play balls or sand in this pop-up pool for lots of splashy, sandy fun. According to the manufacturer, it is quick and easy to set up. The pool also comes complete with a handy storage bag, so you can take the cool Disney Princesses Pop-up Pool where ever you go. Could make an ideal toy for garden time when you go to stay at the grandparents.
Thanks to cameronjac at HUKD!