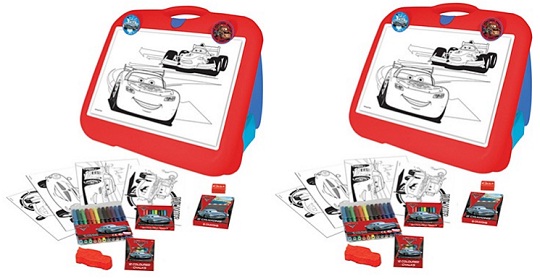 I bought this, the Disney Pixar Cars 2 Art Easel, for my son last year. Actually not quite the same one - my version is from the first Cars movie, and there's a couple of slight differences in the design. But essentially it is the same easel. And it was an excellent buy, my son has got a lot of use out of it. Debenhams has this in its sale section, reduced by 50% from £25 to £12.50. You can also get free delivery if you can collect instore.
The Disney Pixar Cars 2 Art Easel is portable. The whole thing folds down flat so you can transport it around fairly easily. There are little drawers or compartments inside for keeping all the art stuff like chalks, crayons, pencils etc safe while you're moving it around.
I initially got the easel for our camping holiday. It was great to keep him occupied during those quiet moments, or in the car (flat on his lap). The only thing I'd say is that the comparments aren't that well designed. They do keep everything secure when folded flat but I can guarantee that you'll never remember which way up to hold the easel when you unfold it, and that all the contents will tip out every time. Or maybe that was just me!
This Cars-themed easel is bright, sturdy and perfect for art on the go. Clip on one of the pictures of your favourite chracters from the hit Cars 2 film and colour it in, then flip the easel over and draw chalk pictures on the blackboard. Everything packs away into the easel to make light work of taking it on holiday or to a friend's house. The Disney Pixar Cars 2 Art Easel includes: Travel easel with carry handle 3 in 1 clipboard, whiteboard and chalkboard 12 markers 8 crayons 5 colouring sheets 12 colouring pencils 12 chalks Rubber Sharpener.