Disney Mug & Beanie Toy £6 @ The Disney Store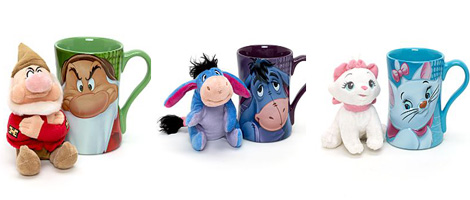 While the Special Agent Oso and Lotso Bear toys remain stubbornly sold out in the run up to Christmas, you can still get some amazing goodies for your kids from the Disney store. This adorable set will make a stunning Christmas stocking filler for only £6.
The Mug and Beanie sets available at the Disney Store include the following kits: Eeyore, Marie, Grumpy, Minnie Mouse, Tigger and Winnie the Pooh.
They are utterly adorable and I think that the reduced price is far more realistic than the original £10. I must admit that I tend to avoid Disney products because they make me feel so "marketed" at, I don't like feeling like a wallet with impulses.
Still, nabbing great deals that will make little ones giggle with glee is just fine. I would definitely consider getting one or two of these for nieces and nephews, or as nice little stocking fillers for my kids as they are cute and long lasting.
Thanks to ednamay78 at HUKD!