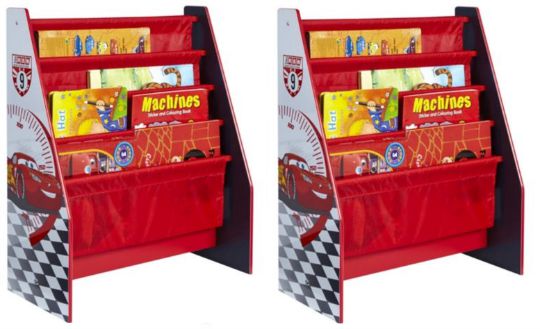 This Disney Cars Reading Time Bookcase has been reduced at Tesco down from £34 to just £26, and it's even included in the Clubcard Boost as well. Most other stores are still charging the full price for this, with Toys R Us even charging just short of £40!
This is a sling type bookcase, so is ideal for younger children. They will find it easier to find the books they want, and also easier to tidy away after themselves. The slings are tough polyester in a bright red colour, and the sides of the shelf are decorated with images from Disney Cars.
This Sling Bookcase is cheaper than any unbranded ones I can see about at the moment, so even if your youngster isn't a big fan of Cars it's not a big job to cover over those pictures on the side and replace them with something they prefer. I am thinking of getting one and putting dinosaur pictures on it instead, as that seems to be a thing for my youngest at the moment.
I'm regretting using up the last of my Tesco Clubcard Vouchers earlier today on some bedding we needed, as I could have used the Clubcard Boost on this instead, as it would only have used up £13 worth of my vouchers! Never mind.
You can use the free click and collect service from any Tesco store, or home delivery adds an extra £3. If you can't collect then I would add something for £3.99 or more from the baby and toddler section to your order, and then you qualify for free delivery anyway - better to get something else for your money than it go on the delivery charge!