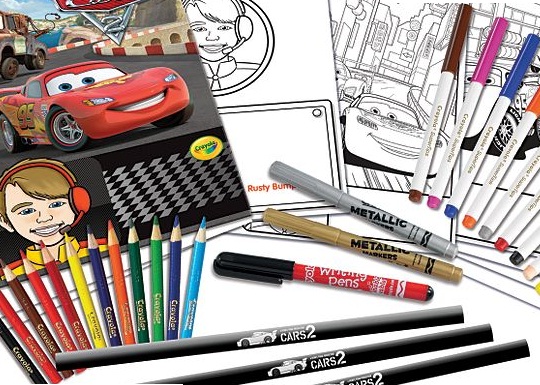 I was looking for some activities to keep my son occupied while in the car or during quiet times when we go camping this year. And I found this. The Disney Cars 2 Story Studio has been reduced now by Debenhams from £18 right down to £5.40. Delivery doesn't cost you anything if you can collect from the story. Otherwise it is £3.99.
Disney Cars 2 story studio includes unique Story Studio access code, 2 Metallic Markers, 12 Supertips, 1 Handwriting Pen, 12 Pencils, 30 plain A4 sheets, 6 glossy A4 sheets, 3 binding strips, A5 card stencils, A5 sticker sheet, 1 colouring page.
It is recommended for ages 4 and upwards. This would also make a great addition to the present drawer, or for putting aside as a stocking filler.
Personally I don't think this would be good value at all for £18, so I'm not surprised it has been reduced. At just over a fiver it's a much better deal. I wish that manufacturers would realise you can't just stick a premium on something because it has a merchandising tie in.