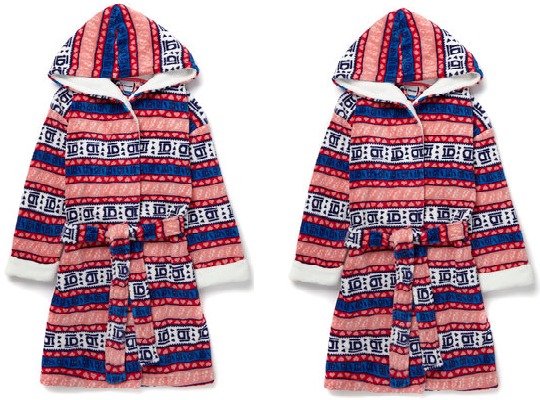 The weather is getting colder, and I reckon it's set to get worse. Keeping the kids warm is always a priority so buying adequate sleepwear is a must. This One Direction Fleece Dressing Gown is now from £5.40 at BHS and is just the ticket for keeping warm at the breakfast table. BHS are offering FREE delivery from now until Sunday, so that's included too!
The One Direction Fleece Dressing Gown is pink, blue, red and white in colour and has a 1D pattern all over it. Also it is hooded for those morning haters who just want to be left alone at the breakfast table.
It is made from 100% polyester and is machine washable. The good thing is fleece material dries quickly indoors during the crumby weather.
Sizes available are: Age 7-8, 13-14 and 14-15. Prices vary according to which size you require. The 7-8 cost £5.40, 13-14 costs £5.70 and the 14-15 costs £6.
One Direction are as popular as ever and I know a few little fans that would love this dressing gown, to go with all of the other 1D memorabilia that clutters their rooms.
Thanks to babyblue @ HUKD