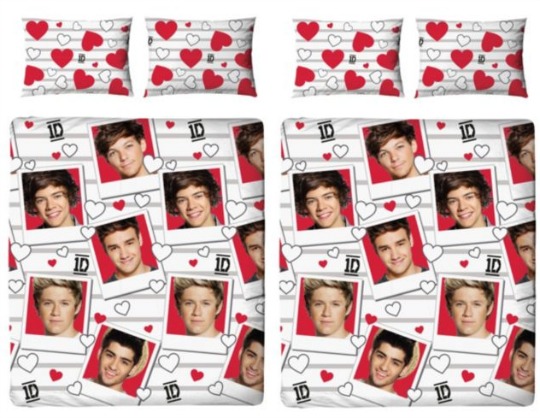 If your child has a double bed then you will feel my pain. Trying to get a child friendly design on a double duvet isn't easy or affordable generally. However, I have found One Direction Double Duvet Cover Set at Tesco Direct and it's reduced to just £5.50, down from £8.  You won't find this 1D Photo Snap design anywhere else as it's exclusive to Tesco Direct.
The One Direction Double Photo Snap Duvet Cover Set is reversible which is great if you want a change of look. This duvet cover set is actually a cheap bedding option even if your child doesn't like One Direction as the other side is just a pretty heart pattern, and nobody dislikes hearts, right? The other side is covered in the One Direction boys' faces.
It's made from 100% easy care polyester microfibre, I like this material as it's doesn't crease really so you can skip the ironing. It can be machine washed and tumble dried.
You can Click and Collect the One Direction Double Photo Snap Duvet Cover Set for FREE from your local Tesco store or pay £3 to have it delivered to your front door.