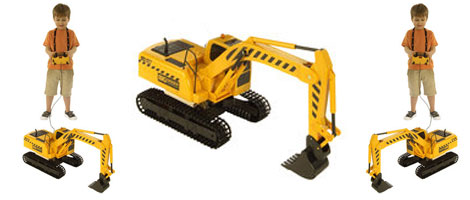 Toys R Us have a lovely half price deal on this Dickie Mega Digger! Bringing it down to £24.99 from £49.99.
Diggers have been part of my life since my youngest fell in love with JCBs and learned all about Joseph Cyril Bamford - he was the only nearly-three-yer-old I've ever known who could tell you all about the history of the JCB.
We have books about diggers.
He loves going to Digger Land - if you have a little digger fan then we can highly recommend it!
His favourite song is the JCB song by Nizlopi...you're getting that he loves diggers, right?
So can you imagine how excited he'd be if he discovered this remote control Dickie Mega Digger under the tree on Christmas morning?
It's a 1:14 scale model that is powered by 6 AA batteries, which are NOT included, and it has a rotating cab and a moving arm.
If that wasn't enough, then it also features realistic sounds and has flashing lights too.
You can arrange to collect this in store for FREEEE or pay £4.95 for standard delivery to your home.
Thanks to ashleyj1155 over at HUKD!