Desingabear Puppy £6.49 @ Argos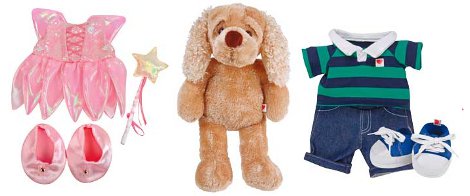 The Designabear Puppy is just £6.49 at Argos right now, which is a half price saving on the cuddly toy.
A fantastic alternative to the other, much more expensive design-your-own soft toy, the Designabear Puppy is cute and cuddly and comes with enough accessories to ensure a relatively unique present, whether for Valentines day, a "get well soon" thought, or simply a cuddly toy.
Designabear's Puppy is 38cm high, so a good size without being over the top. He comes in a well presented gift box, with a 'birth certificate' and own passport where it's new owner can fill out all the bears important information – name, date of birth and so on.
Argos' reviewers love it, giving it a unanimous five star rating (16 reviewers) and plus points include the softness, the outfits available – these will cost up to around £10 each and some of the outfits are also currently on sale. (The Designabear Fairy Outfit is currently £4.99, the Designabear Bedtime Set is currently £5.99 and the Designabear Beach Accessory Set is it's normal price of £4.99.)
Designabear's Puppies are in stock for home delivery as well as for click and collect, and should you prefer a bear to a puppy, the Honey Bear is currently on offer for £7.99
Thanks to Hannah19790 at HUKD