deAO Children's Play Kitchen With Food & Accessories Blue/Pink £16.99/£19.99 Delivered @ Amazon Seller deAO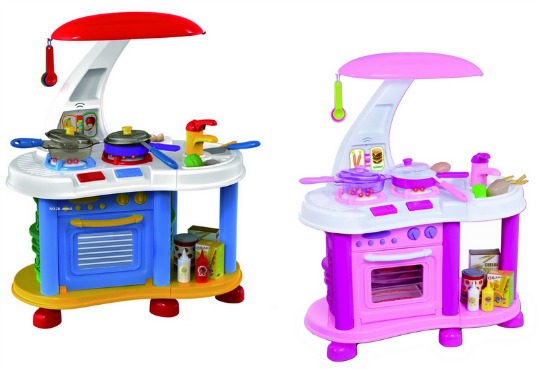 Play Kitchens are at the top of a lot of birthday present lists. Birthdays are expensive so looking for gifts at the right price is important. These deAO Children's Play Kitchen with Food and Accessories are only £16.99 for the blue one and £19.99 for the pink. They look good for the money and like they come with plenty of play bits too. You will find these lovely play kitchens at Amazon sold by deAO themselves, since Amazon are fulfilling the item you get FREE delivery too.
The deAO Children's Play Kitchen with Food and Accessories is not just a lump of plastic but it's quite interactive too with working lights and sounds. Here's me thinking that this would be as basic as they come.
According to the description on Amazon, you get everything on the picture. That means toy pots and pans, utensils and plenty of play food. I'd suggest that this really is worth it's sub £20 price tag.
It is suitable for children aged three years old and above. It stand 62.5 cm tall and 51 cm wide, so it's not enormous for those of you with restricted space.