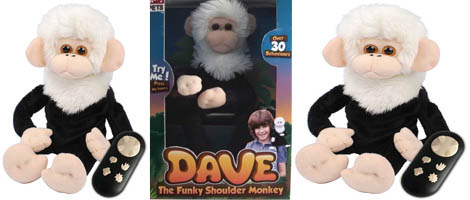 This toy, Dave the Strange Shoulder Monkey, is currently listed in the top twelve Must Have Christmas presents this year. It's an odd little toy that would make a great gift for the kids, or a weird novelty gift for the guy that has everything. Down from £24.99 to £19.99 at Menkind, this is a fairly good saving on this chap.
Dave the Funky Shoulder Monkey is an interactive remote control toy that sits on your shoulder and does all sorts of odd little things. You can choose between four different behaviour modes on the remote control and each one does its own thing.
He can burp, laugh, scratch, wave and even cry. He comes with a shoulder strap so that he doesn't fall off you while he's doing his various actions. I'll be honest, I'm not entirely sure what the attraction is here. It is a remote control toy that burps.
I suppose there is loads of novelty value though, and some people will eke hours of fun out of this little dude. He also comes with free second class delivery if you spend over £20.
Thanks to Rich44 at HUKD!