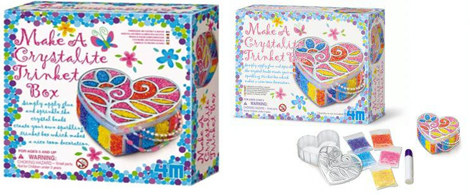 This is another fantastic Christmas stocking filler, or even full gift, courtesy of Amazon's fabulous (and very sporadic) discounts. This is a Crystalite Trinket kit that lets you make your own crystallite, um, trinket! Down from £5.10 to £3.02, including free delivery, this is a nice little bargain present.
Is it wrong to admit that I'd never heard of crystallite until right this very minute? Probably, gulp. Anyway. This kit lets you make your very own trinket box using the included ingredients and instructions.
All you have to do is apply glue and sprinkle the crystallite beads all over in order to create your own fantastical designs. The kit includes everything you need to make your trinket box and is bound to offer plenty of amusement on a cold winter's day.
It is not suitable for children under the age of three but it has had some good reviews from other parents who bought the kit. Overall they say it is a good creative activity and a lovely little stocking filler. So if you're on the prowl for Christmas bits and bobs why not throw the Crystallite Trinket box into your basket? Wahoo!
Thanks to Lucerysmum at HUKD!