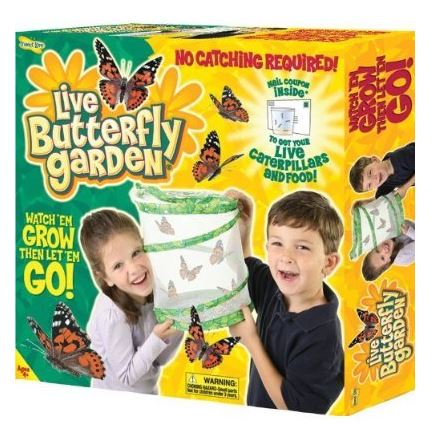 Amazon are selling the Insect Lore Butterfly Garden kit for £13.39 delivered. There are a few sellers with slightly cheaper prices, but when you add on delivery, this is the best price for this awesome activity for children. Also, you can buy the butterfly garden in three ways: a whole kit, including butterflies, a kit with a gift certificate for later or a refill with just the caterpillars. This set comes with the coupon for the butterflies, so you'll have to send off for them and pay the extra £2.99 for delivery of the caterpillars.
Last October my daughter was given one of these kits for her birthday, so when spring arrived, we sent off for her butterflies, not really knowing what to expect. What we received was a small pot with eight tiny caterpillars in them, and over the next few weeks we watched them transform rapidly through their life cycle until a few week ago, when we opened the lid and let them fly off to their own lives.
In this full kit you'll receive a reusable, collapsible Hatching Habitat, Caterpillar Coupon (P&P fee required), instructions and activity booklet and feeding pipette.
This was such a magical journey, both  my four and two year old loved it, and their friends kept an eye on the butterflies' progress every time they came to visit. For the price it provides weeks of engagement and such an incredible learning opportunity too.