Crazy Chefs Game £5.64 @ Amazon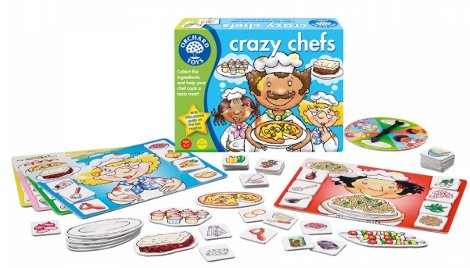 The Crazy Chefs game from Orchard Toys is currently on sale at Amazon for £5.64 instead of £7.25 – a lovely 22% saving. Amazon says this offer is valid until midnight tomorrow (Sunday).
If you've never heard of Orchard Toys, I strongly suggest you head over to their website and have a browse around. I'll even make it easy for you and give you their link: Orchard Toys. They are a really interesting company with fantastic games for your little people.
You just have to read some of the reviews on this game at Amazon to know I'm not the only one that thinks so.
"I think I may be developing an undying gratitude to the people at Orchard Toys" says one parent.  "This is the fourth Orchard Toys game I have purchased and they have all been durable and enjoyable", says another.
The game is a game of memory, where you have to collect all the ingredients you need to 'make a meal'.
According to the parents, again, the game has taught their children about recipes and ingredients, of matching pictures, and most importantly – and mentioned by a few reviewers – taking turns.
If you don't know Orchard Toys, do check them out, and this game does sound like a winner too.