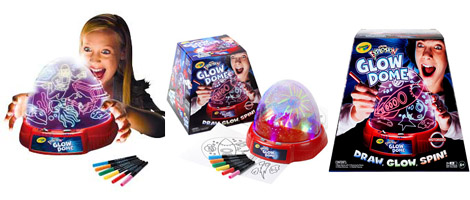 I adore colouring products. I love stationary of all shape and sizes and my inner child has not grown out of wanting to colour in with crayons. This particular product from Crayola is awesome as it has so much included and it is now down to £18.74 instead of the usual £24.99 at Amazon
The Crayola Colour Explosion Dome basically lights your drawings up and turns them into 3D layered scenes. You create your images on the glow panel and dome, then you press the light and spin the action buttons to make the layered scenes come to life.
The kit comes with six glow markes and two starter scenes so you can draw onto the dome itself. The built-in motor rotates the dome at different speeds to create the illusion of animation. The batteries are not included, though, and this is only for children aged six and up.
I love this and I wonder if it is entirely wrong that I want the Crayola dome for myself?
Thanks to mitchwales at HUKD!