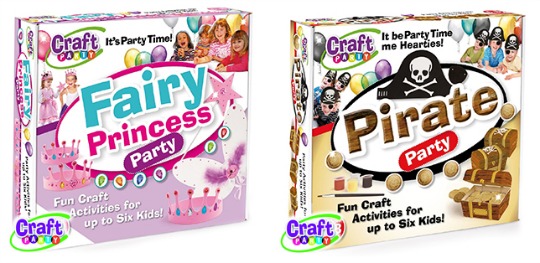 If you're planning a children's birthday party soon then these Craft Party Kits are a really great value way to sort out the party activities, and they're less than half price at Home Bargains. The RRP for these is £17.99, they are selling for between £14 and £18 in most stores, but Home Bargains have them for just £6.99 per pack!
Each Craft Party Kit box has enough craft activity material for several projects for 6 children, so you can keep 6 children very busy, or separate the activity and craft items out to give to a larger group.
There are four different themes to choose from: Pirate, Fairy Princess, Mad About Ponies or Treasure Box. There's tons in each box, so as an example here's what you get in the Fairy Princess Party Box:
6 x Princess tiaras
6 x Fairy wings
6 x 1 Metre lengths of lilac organza ribbon
12 x Fairy wand stars
6 x Fairy wand handles
24 x Marabou feathers
1 x Sheet of star shaped stickers
6 x Sheets of fun stickers
50 x Large self-adhesive sparkle jewels
100 x Small self-adhesive sparkle jewels
That's an awful lot of craft supplies for your money! All these kits can be bought in store subject to availability, and as this is listed as new range the chance of seeing them in store should be good. They can also be ordered online for home delivery, and charges will vary according to the size of your order and the destination, being calculated individually at the checkout stage.
Looks like I'll be grabbing a couple of Pirate boxes to put away for the boys' birthdays in the summer!