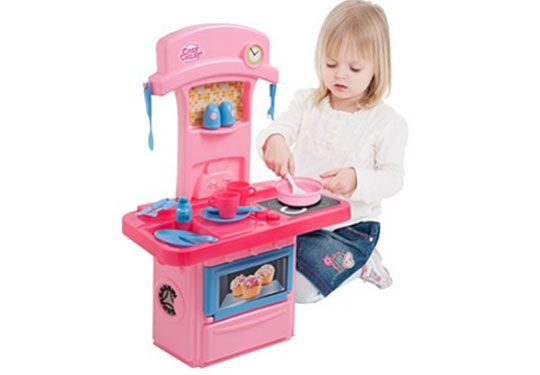 It's almost got to the stage, for any of us here at PlayPennies, where if any of the toy kitchens we write about come with forks, we want to poke them in our eyes!
It's not that there's only so much you can ever say about things like this Cosy Cottage My First Kitchen, it's the hideous gender stereotypical product descriptions we have to read through first.
Thankfully, this one's not so bad as, and I quote, "Little ones who love copying mum and dad will cook up a storm in My First Kitchen," - it's rare that dads get mentioned in kitchen role play spiel!
So, this Cosy Cottage My First Kitchen is pink (do little boys, who love cooking up storms in the kitchen like dad, mind if theirs is pink?) and it stands 60cms tall and has a hob, a toaster, a sink and an an oven complete with opening door - good job really, it'd be a pretty useless oven otherwise.
It also comes with 14 accessories: two plates, two cups, salt and pepper shakers, two knives, two forks (ooooh goody, where are my eyes!), two spoons, a spatular and a frying pan.
The original price for the Cosy Cottage My First Kitchen was £20, now it's all yours for £9 - a rather tasty little Christmas bargain methinks!
Standard home delivery takes around four days and is currently free. However, if you live in the Scottish Highlands or Channel Islands, then the Cosy Cottage My First Kitchen isn't available for delivery at all; sorry.
Thanks to Chalico at HUKD