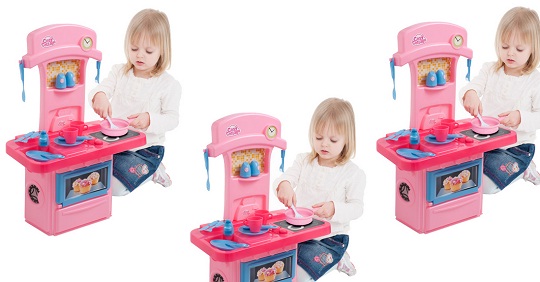 Looking for a bit of role play fun? This is a cute wee toy from The Entertainer, the Cosy Cottage My 1st Kitchen. It has been reduced from £20 to £7.50. My friend has bought this as a toy to keep at her house for her grand daughter. It looks fairly small, so she can keep it in a cupboard when the grandies aren't visiting.
Home delivery costs £3.95, but is free if you spend more than £30, so might be best value as part of a larger shop. It is free to click and arrange to collect in store.
The pretty pink roleplay set stands at 60cm tall and has a sink, toaster and opening oven door. It also comes with 14 accessories including:
2 plates
2 cups
Salt and pepper shakers
2 knives
2 forks
2 spoons
Spatular
Frying pan
It is a shame this is pink as in my experience, boys tend to love playing with kitchen playsets as much as girls, if not more. At the one o'clock club we used to visit, it was always the boys in the kitchen play area fighting over the saucepans.