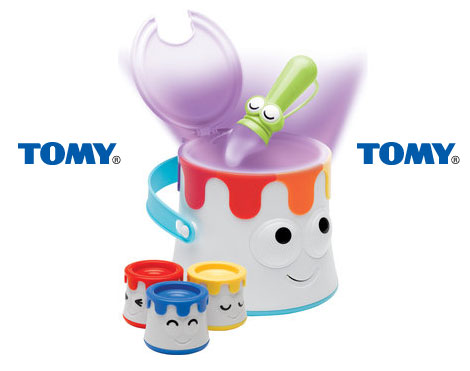 This Tomy Mr Colour Maker toy looks GREAT and Play are selling him for £17.99 instead of his usual £26.99.
Do you remember learning about colours when you were a little kid; mixing red and yellow poster paint to discover what colour you'd get? I do and it was messy - fun if you're little, not so fun now you're the grown-up.
Tomy have come to the rescue my fellow parents, all hail Mr Colour Maker - I think he's genius and there's so much to tell you about that I'm going to end up going w a y over my word limit (oh the rebellion!).
Mr Colour Maker teaches colour and colour creation in an engaging, and interactive, way AND without a single drop of paint.
He speaks over 50 phrases and gives easy to follow instructions in a clear English voice.  There are three modes of play: You Create Mode, Follow-Me Mode and Sing-a-Rainbow Mode.I
In 'You Create Mode' you hold one of the colour pots over the mixing pot and listens as Mr Colour Maker says hello to the colour "Hello Red, how are you?", at the same time the mixing pot  turns that colour.
Take another colour pot and do the same thing again, then mix the two colours together with the magic paintbrush and Mr Colour Maker will tell your child which colour they've made, for example, "well done you coloured me green!"
Mr Colour Maker is rather intelligent,  he'll adapt and adjust the difficulty as your child learns.
Shades of colours come into play depending on how long a colour pot is held over the mixing pot for and, as he runs on 4AA batteries, he switches into standby mode after 60 seconds to save power.
Mr Colour Maker is suitable for little people aged two years or over and I'm rather taken with him, can you tell?
Now, sometimes Play fiddle with their prices like Amazon do, so if they have put the price of this Mr Colour Maker up before you have a chance to buy him, then go and have a look at Amazon as well, as they were selling him for the same price.
They are your only two discount options though as Argos, Tesco Direct, Toys R Us and Boots are all selling him for £26.99, in fact Boots have Mr Colour Maker priced at £27.57. You can read the full Mr Colour Maker review here.
Thanks to gizzygoo at HUKD