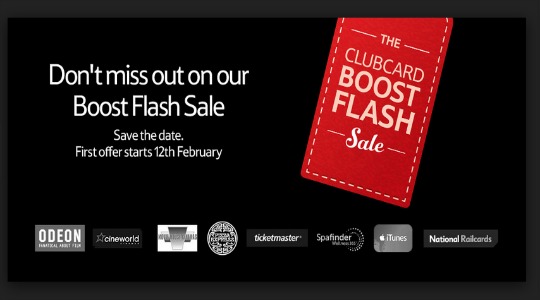 Edited :
Last deal today and it's £5 of Clubcard vouchers for an annual National Railcard. Limited availability here so hurry! Choose from 16-25,  Disabled, Senior, Friends & Family and Two Together railcards.
Got points on your Tesco Clubcard? Yes? Well you are in luck then. Starting on Thursday 12th February, Tesco are launching their first deal as part of their Clubcard Boost Flash Sale. I am intrigued but as much as I have digged I cannot find what exactly the deals are. All offers are subject to availability so I'd keep an eye on the site.
I can tell you that the Cineworld, Odeon and Movie House Cinemas Deal starts on Thursday 12th February. I think it's a safe bet to that this will involve some kind of ticket package deal? Yeah, no?
On Monday 16th February, it's Ticketmaster. I am going to guess that this will be gift cards but it is only a guess.
The next offer is an iTunes one starting on Wednesday 18th February and this has got to be something like an iTunes Credit Voucher, right?
The 23rd February has a Pizza Express offer running and I will be over this one like a bad rash. One Sloppy Giuseppe over here, dear!
Followed by Spafinder on the 26th February and then National Railcards, which should be a good one on the 3rd March.