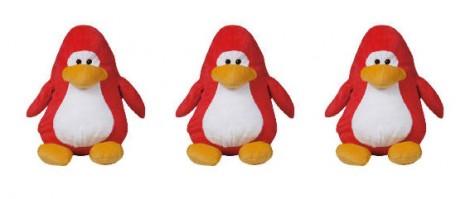 Maybe it's a Spring thing - Happy First Day of Spring, by the way! - but I've spotted a couple of deals these last few days where I wrote exactly the same one, almost exactly a year ago to the day!
This Club Penguin/Puffle 2-in-1 soft toy is one of those deals - I told you about him last year on 21 March; he was £5 then, reduced down from the usual £20, and he's £5 again now.
I'm still really none the wiser when it comes to anything Club Penguin - as your kids get older you'll find you lose touch with the latest younger childhood crazes - but I do know that the popularity of it is massive and Club Penguin toys tend to go out stock FAST, especially when they're on sale.
The Penguin ca transform into a Puffle which, I now know, is a good thing and something that kids absolutely love.  if you're umming and aaahhing about this Club Penguin/Puffle 2-in-1 soft toy then perhaps reading some comments from existing owners will help you out...
"Fantastic toy....my little boy loves it, as he is so into Club Penguin! Soft, lovely bright colours and a good size. He loves the fact that you can turn the penguin into a Puffle."
"My kids thoughtly enjoy this product they take it everywhere with them even on holiday, it's so good as you can turn it into a puffle when you have finished it being as a penguin."
"This was bought for my sons birthday and he says that it was his best present. It goes everywhere with him he just loves it to bits. Its so soft and cuddly and the fact you can change it to a puffle is brilliant."
There are almost 100 comments on Reevoo about this Club Penguin soft toy, all singing its praises - they can't all be wrong!
Thanks to lucerysmum at HUKD