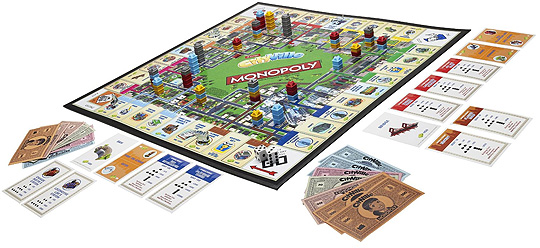 Amazon are selling this Cityville version of Monopoly for £6.99, rather than £21.99.
Judging by the amount of Cityville status updates I see, and Cityville invitations I get, it's rather popular; Monopoly is also very popular - so marrying up the two to unleashCityville Monopoly on the world must have seemed like a, to coin the popular phrase, 'no-brainer'.
Personally, I cannot stand EITHER!  I block anyone who sends me Cityville invitations and I refuse to play Monopoly, I just hate them both - BAH HUMBUG!
I couldn't care less that you can build houses, community spaces (parks..?) and businesses on the properties you own; I couldn't care less that you need to build four skyscrapers to win the game, and I really couldn't give a monkey's doo-dah that Cityville Monopoly includes all of this:
1 x Game board
4 x Movers
66 x Buildings
16 x Skyscraper tops
City money
Zoning permit cards
Mystery gift cards
Visitor center cards
2 x dice
I don't even care that £6.99 is the cheapest I've seen it for. But I do care that it might be the perfect game for you and your family, so please be wary of delaying too long and falling victim to Amazon's pricing rollercoaster.
Thanks to samsyscott at HUKD