City Train Table And Railway Set £99 @ Toys R Us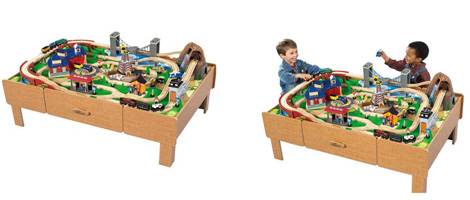 These enormous tables that consist of trains and railways and hours of entertainment are just supremely cool. Down from the usual price of almost £200, this is a fantastic bargain from Toys R Us, and it comes with free delivery.
While there is a cheaper variation of this toy at ASDA, this particular set is almost three times the size. It is 125x83x45cm and comes with over seven metres of track. The playtable has a wooden frame, two drawers for storage, and a decorated playboard.
You get tunnels, stations and bridges plus electronic lights and sounds and several different types of train. The set also includes trees and other accessories to decorate your layout. It's compatible with BRIO and wooden Thomas Trains too, so you can bulk up the kit as you go.
These kits are simply awesome; I have enjoyed playing on them with my daughter and had just as much fun! If we had more room, I would so get one of these for this price.
Thanks to Miss Wetwipe at HUKD!