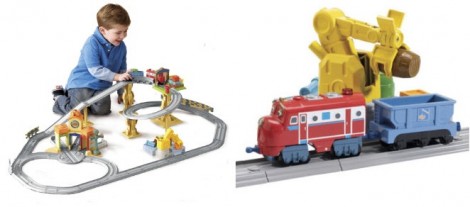 Chugger chugger chugger Chugginton! Calling all young Chuggers, here's a fabulous deal. ELC has reduced the price of this set by £30 from £59.99 to £29.99.
This set includes interactive Wilson, Roundhouse with Vee, tunnel, crane, bridge and 39 pieces of track. The Talking Vee will recognise the engines and give them a job to do.
It looks like an impressive set but do read the customer reviews before buying. People seem to have found the plastic tracking cheap, and difficult to fit together so that the trains tend to come off on at least one corner. That said, I think I'd be miffed at getting a product like that if I'd paid £59.99 but for £29.99 it seems like a much better deal.
Personally, I would have liked more information in the product specifications. Very little is provided.
Standard delivery is within four working days and costs £4.95.
Thanks to lisa111 at HUKD!