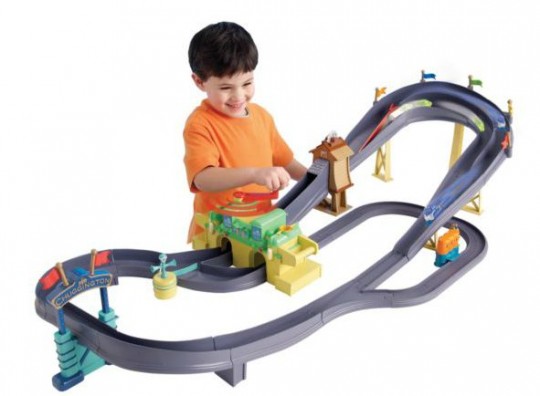 Chuggington Chugger Championship Series Deluxe Playsets are on offer at Argos right now for £23.99 instead of £47.99, a fantastic 50% off. You can reserve and collect free of charge, but home delivery is a painful £5.95.
This looks like a really fab set, and according to the review it is – as much as you can trust a panel of one.  It has five stars, and she'd recommend it to a friend.
The Chugger Championship is a child-powered crank launcher playset, so it doesn't require batteries or electricity, which makes a nice change.  You can race engines separately or connect them to race longer trains.
A trophy pops up in the end to show the winner.
They reckon it'll help a child's motor skills and hand to eye co-ordination and creativity… and I'd guess imagination too.
Colours and styles may vary from those in the picture, and the set weighs over 2kg, so it's quite a bulky gift.  In size it's 35cm high, 60cm wide and 13cm deep.
Argos recommend this set for children over 3.
Thanks to mtc1 at HUKD