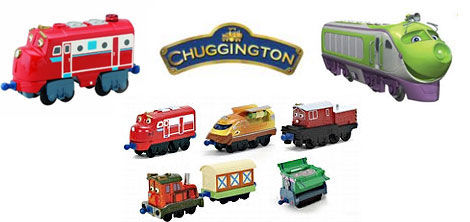 Sainsbury's have a scorching hot deal on this six-piece Chuggington Character Gift Set!  It was originally £26.99 but is up for grabs for £9.99 until 6 January 2011.
All young Chuggers everywhere will be thrilled with this Chuggington gift set featuring six die cast models from the kids hit TV show.
Are you new to Chuggington? Let me fill you in quickly...
Wilson, Brewster and KoKo are trainee locomotive engines (Chuggers) who live in the town of Chuggington and they get up to all sorts of mischief and adventures, whilst learning important life lessons along the way (of course!).
Wilson is the youngest and can be a bit over-enthusiastic sometimes, Brewster is the sensible one and KoKo is outgoing and daring.
The engines which make up this six-piece Chuggington Gift Set are:
Wilson, Calley, Box Car, Irving, Action Chugger and Irving Rubbish car.
The engines all have an easy coupling system so they securely connect to the various carriages, rubbish cars and other coaches that are available.
All of the Chuggington things are suitable for little locomotive fans aged three years and over.
Thanks to dreamdazzler over at HUKD