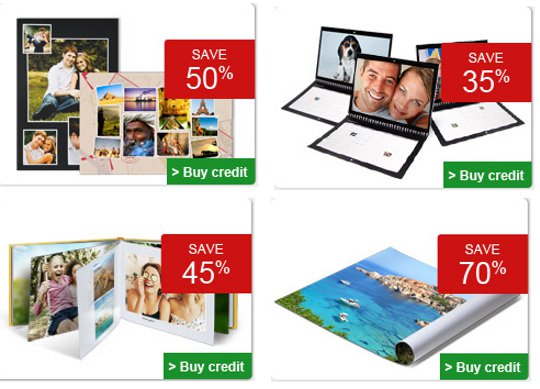 Tomorrow's the last day to take advantage of a 70% off offer at Photobox – and there's good news. You just have to buy your credits by midnight Sunday. You still have two weeks to get your personalised gifts and keepsakes uploaded, so there's no need to cancel your plans for tomorrow!
The magic words are up to in this case, and in the fine print you'll find up to 25% off cards, 35% off calendars and diaries, 45% off canvases, 50% off photo prints, 60% off photo books, and 70% off wall décor.
So some of the must have offers in this deal are the XL Poster Prints reduced from £24.99 to £7.49. You can choose from 40x30 and 45x30 in size.  If you prefer collages, you can bag two 30x20 collages for £17.49 instead of £34.98.
For Photobooks the best offer is 60% off the large square photobook - £74.99 down to £29.99 – and there's 55% off the Classic Photobook with 100 pages for just £36.22 instead of £80.49.
Calendars make fantastic gifts all year round, especially the ones with photo days – days with a picture in them, for example of people who have their birthdays on that day – and you can have 3 Double Page Calendars for £38.96.
So… that's me for the next two weeks. I'll be building photo albums and calendars, if anyone needs me!