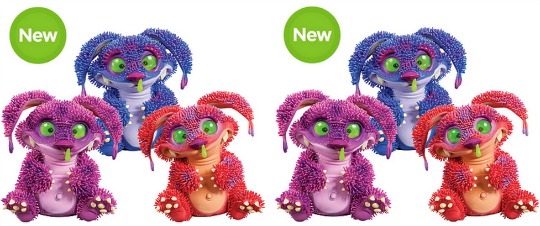 I won't lie, these Xeno toys are HIDEOUS. I am not sure if it's their staring googly eyes or that huge, green, dripping bogey hanging from it's nose. Whatever the reason, it's a toy adults will hate and kids would give an arm for. Xeno toys normally sell for around the £70 mark. It is £79.99 at Argos. Get yourself over to Asda Direct and you can get one for just £64!
Chances are you will know as much as I do about Xenos. At first I thought these were a modern, uglier, grottier Furby. How stupid was I? I was quickly corrected by my boys that this is WAY COOLER than a Furby.
It's a baby monster that has "real emotions" including happy, playful and sad. Xeno's eyes are LCD, so can change up to forty times. Yikes! He will also talk to your child, by asking questions like "wanna play?"
This will please you, it FARTS. I am willing to bet the contents on my bank account that this is why my boys want it so badly! You can tickle it's feet, feed it, it'll even dance along to your music.
There's games already programmed into Xeno, but in the likelihood that your child will eventually get bored you can download a FREE app so that you have access to additional games.
Collect your Xeno for FREE from your local Asda store, or pay £3 for delivery.
Thanks to clarejosh @ HUKD