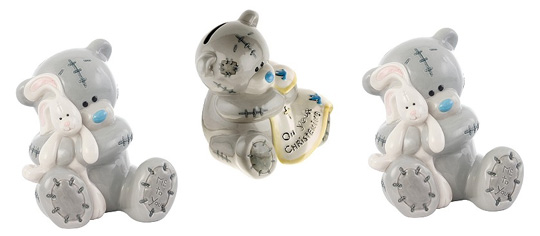 If you have a christening coming up and you're still looking for a gift then you might want to take a quick look at this Me To You Christening Money Box.
It's usual price is £18.99, you can pick one up in-store from H Samuel for £13.99 or pay an extra £2.95 to have it delivered to your home.
Could the Me To You Tatty Teddy be any cuter?!  This Me To You Christening money box is just lovely and will make a really special little gift for any youngster lucky enough to be given one.
A ceramic Tatty Teddy is cuddling a cream blanket that has 'on your christening' written on it - I'm almost disappointed I don't know anyone with a little one being christened any time soon, I love giving little gifts like this.
OOOOH, OOOOH!!!  I've just scrolled down the H Samuel screen and seen another Me To You money box that's not christening specific, is just as cute and the same price!
Click HERE to take a look at the non-christening money box
With this one, Tatty Teddy is cuddling a little white floppy bunny soft toy and is PROPERLY cute - who can I buy one for?!
Thanks to missgem at HUKD