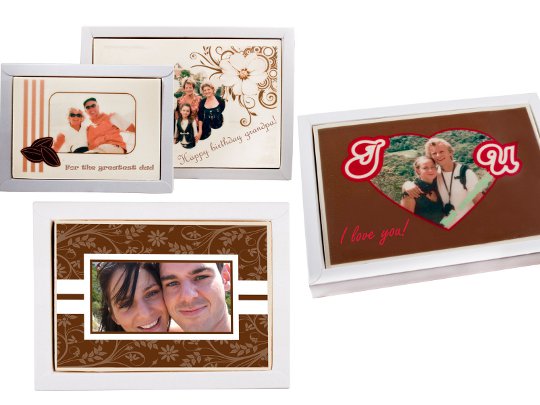 You know you get those people that you just don't know what to get? In the end you grab the most expensive box of chocolates you can find off the shelf in your local supermarket – or even a ribbon wrapped box of delicacies from the chocolatier? Well, now with the Chocolate Card from Your Surprise  you can give them something that says you did actually put timely thought into their gift.
I ordered a Chocolate Card for myself, as a tester before giving it to someone else, because it's all fine and well the picture looks good, but you have to see the finished product, and I have to say that I am impressed.
Placing the order couldn't be simpler: Choose whether you want a photo and text or text only, choose the design you want, if any, and edit your image (it can be colour, black and white or sepia). Add your text, view the end result and order.
Select how many copies you want, and choose your chocolate.
The top layer is always white chocolate and you can choose plain white, milk or dark, and I must admit, this concerned me as I would rather pass up having chocolate, than having white chocolate, but I hoped it would be a thin layer, for printing purposes.
You can add a free gift card too.
When my chocolate arrived, I was really surprised by it. I chose text only and design, and specifically chose what I thought would be an intricate design, and it was beautiful. I angled the text to make it 'harder' to do and used a Script font too. It was really finely and delicately done.
I was hesitant to taste it as the white chocolate layer was thicker than I'd have liked, but I couldn't even tell it was white chocolate. It is rich,smooth, gorgeous Belgian Callebaut chocolate, and it took a lot of love for me to share it with my husband. I even hid it from my daughter.  It is described as a brand "well-known for its intense flavours and outstanding quality" and it really is.
I think this is a stunning idea for someone who 'has everything', and if you were after something to send to VIP clients, this would make a Christmas card that would stand out from the crowd. I'm even keeping this in the back of my mind as Christening favours for next year – one Chocolate Card per family will do nicely.