Childhood Memories Book Review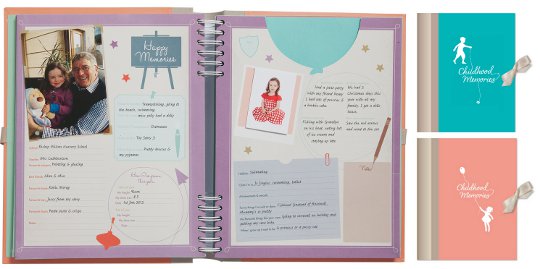 I am so excited about the Childhood Memories book (£19.99) from KTwo Products, I can't tell you! I had something very similar to this, growing up, although it wasn't remotely as snazzy. It was called an I Am Me book and from pre-school to high school my dad would complete the details for me. A few weeks ago my mum and I were having a disagreement about something from my 2nd year at school, and out came the I Am Me book. The argument was soon forgotten as it turned into a stroll down memory lane.
The Childhood Memories book is beautiful. It looks like a photo album, and covers eight years of your child's life. The first page has space for a photograph and personal information, and the last page has space for special photographs.
Each page between has space for a photograph, school information, such as friend's name, teacher's name, favourite foods and so on. There's space for noting down how your child has grown in terms of height and shoe size, and lines for clubs, achievements and awards, and what the child wants to grow up to be.
If there are any negatives here, it's that there's too much information and not enough space to fully write everything down. For example there are only two lines for 'funny things I've said or done'. It doesn't give much room for background, and you know me… I'm all about setting the scene!
The awesomeness of this book, however is in the pocket space provided with each page. It has room for quite a few pages of art, school report cards, love letters or whatever else you want to store for those conversations, years from now, when you're visiting your grandchildren and want a gorgeous afternoon reliving the past with your own babies.
I'm a bit gutted really – I've been telling my husband for years that I want to produce something like this, but KTwo have beaten me to it, and I'll be buying a second one for my second little girl soon.