Chicco I-Gym £15.99 @ Amazon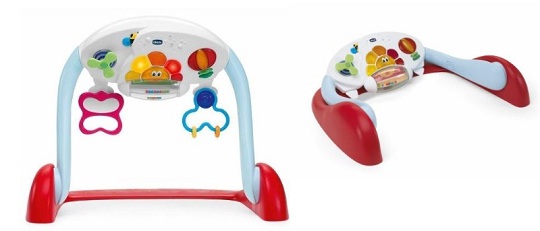 Babies love to be able to reach and grab things, and can be endlessly entertained by you dangling something over them like car keys. Baby gym's work on a similar principle and I know my son's was a favourite toy of his. Amazon has this one, the Chicco I-Gym, in its Boxing Day Week sale, reduced by 60% from £39.99 to £15.99. That's a saving of £24, woo hoo! Make a great present too if you know someone who is expecting. Delivery is free with Amazon Prime.
The Chicco I-Gym aims to help encourage baby to move and develop motor skills. That's what they've put on their website and it makes me think, who on earth writes this stuff? Because otherwise babies don't move? Have they ever met a baby? And why is it that absolutely everything seems to help them develop motor skills. Is this because babies had such a terrible time of it trying to develop motor skills on their own before?
How insecure and unsure of themselves do they really think parents must be? And why am I asking all these questions? The truth is, these are TOYS and they're there so baby can have FUN. Unless you're like the worst parent in the world, in which case you're really unlikely to be reading this, then the chances are pretty good you're providing stimulations etc for baby all on your own.
This particular I-Gym can be connected to an Mp3 player, so you can add music to the fun baby is having with the toy.  All it takes is connecting a Mp3 player to the plug-in connection in the drawer on the back of the activity panel.
This Chicco baby gym has 2 play positions as baby grows. For 3 months and above, tummy up, touching the hanging toys which activate different tumes and lights. And from 5 months and above, tummy down to strengthen back and neck, playing with the electronic panel and developing motor skills.
The Chicco I-Gym is battery operated--3 AAA 1.5v Batteries are included.
To find the latest in the Boxing Day week sales, do visit HUKD's Boxing Day Dashboard