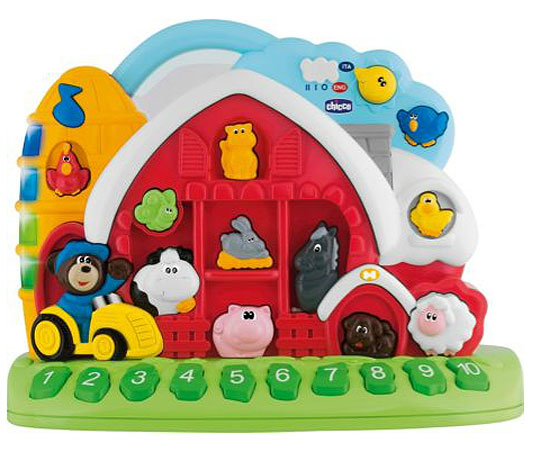 Argos are selling this Chicco Bilingual Talking Farm for half its usual price - £19.53 instead of £39.99.
If you want to introduce your child to a second language right from the get-go - and I fail to understand why languages aren't taught right from when our kids start school, that way we'd have a much better foreign language speaking record than we do.  It's appalling that our children cannot even begin to match the language skills of their European counterparts.
I could rant on about that for hours, so I'd better get off my soapbox and tell you more about this Chicco Bilingual Talking Farm instead:  your child will learn to recognise animal names, sounds, colours and numbers in both English and German which, whilst doesn't sound pretty is quite easy to get the hang of.
It's bright, fun and colourful and I'm pretty sure you're going to need batteries for it , and if I could find any reference to that on the Argos site I'd be able to tell you which type you need, how many, and whether or not they're included.  But I can't, so I can't!
This is an online exclusive so you can't pop into your local Argos and collect your Chicco Bilingual Talking Farm; Argos will, however, deliver it to you for free.
Genießen sie lernen Deutsch zu sprechen!