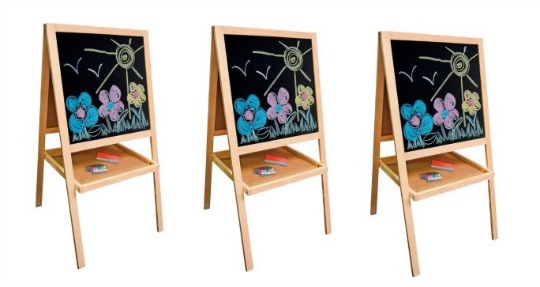 Do you remember how you got all excited when your teacher let you draw on the blackboard at the end of term? Recreate this feeling with the Chad Valley My First Wooden Drawing Board from Argos. Whether the kids know what one is or not, they will enjoy the pleasure of drawing and wiping it clean.
Argos have this for a very affordable £12.99. It has a previous selling price of £21.99 so this is a great price.
This isn't just a chalkboard, on it's other side is a more modern whiteboard. This is certainly more economical and eco-friendly than letting the children go through wads of paper when doodling.
It comes with six coloured chalks, six white chalks and a duster to wipe away all those little errors. There's even a shelf underneath to store all your child's drawing equipment.
I always find that creative toys like this are popular with children. Something like this does not need to be restricted to the house. There's no reason why it cannot be used in the garden on a nice sunny day. It's suitable for three years and over.
Reserve one and pay in store when you collect or pay £3.95 for delivery.