Chad Valley Wooden Dolls House £19.99 @ Argos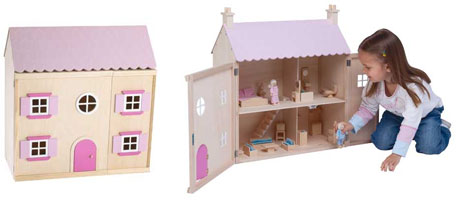 This Chad Valley Wooden Dolls House is wonderfully elegant and wonderfully half-priced at £19.99, instead of £39.99.
I admit it, I'm a wooden toy snob! If I can avoid hideous and nasty, brightly coloured plastic toys I WILL.
Give me traditional toys that don't require share in Duracell any day (shares in other battery manufacturers are probably available), no flashing lights, no bells and whistles and no American voice announcing, "Thaaaat's RIIIGHT!"
This Chad Valley wooden dolls house fits the bill perfectly.
It's pretty pastel pink scallop-edged roof sits atop pale pine walls.  It just oozes elegance and will encourage imaginative play that is refined and sophisticated (ha, all I need now is an Edwardian nanny sitting in a rocking chair in the corner, darning stockings and I'll be well away!).
On a serious note though, even though there are benefits to all the bells and whistles educational toys, you can't beat playing just for fun; where everything comes from your own imagination rather than being led by buttons and voices telling you what to do.
Ok, here comes the frustrated estate agent in me: this Chad Valley wooden dolls house has a kitchen, lounge, bathroom and one bedroom; ideal for couples, making it the perfect size for the two clothed dolls it comes with (their arms and legs move too!).
You can collect your Chad Vally wooden dolls house for free from your nearest Argos, or pay their hefty £5.95 delivery charge and have it delivered to your bricks and mortar house.
Thanks to whizzkid over at HUKD!