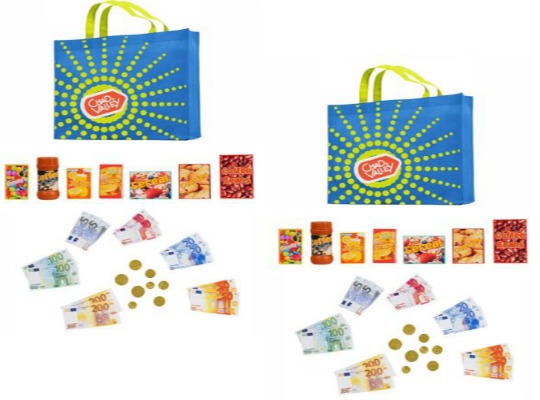 The Chad Valley Shopping Bag with Food and Money is just £1.49, reduced from £4.99 at Argos just now. You don't get much for under £1.50 when it comes to toys usually but this set looks like great value. It has a 4.3 star rating on the Argos site so it must be good. Think of who's birthday you have coming up soon, or any parties that your little one has in the near future. This would be an affordable but fun gift for those occasions.
What do you get inside the Chad Valley Shopping Bag? A total of thirty pieces consisting of play food, play Euro notes and coins. Everything your little one needs to play shop.
Due to the small coins this toy wouldn't be suitable for anyone under the age of three. Children love role play toys as it's there chance to copy us perfect parents. It's when us parents get to re-evaluate our behaviour when we see all our bad habits played out in front of us by the kids. Oh mine make me laugh.
You can reserve and collect the Chad Valley Shopping Bag with Food and Money for FREE from your local Argos or pay £3.95 for home delivery.
Thanks to vicsmcd @ HUKD