Chad Valley Mini Tennis Set £4.99 @ Argos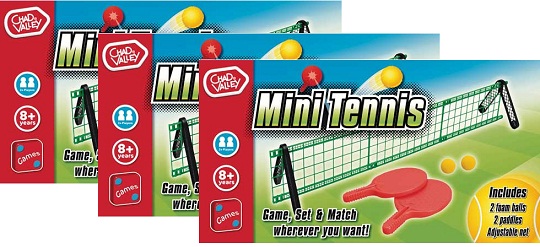 We're in for a little bit of a heatwave. Well 19 degrees or so. Could this be a sign that this will be a warmer winter than last years? Either way this little game from Argos is worth popping away for next year too. The Chad Valley Mini Tennis set is at half price, reduced to £4.99 from £9.99
The great thing is that you don't really have to worry about the weather. This game can be played on just about any table surface.
One for the Christmas stocking perhaps? Always nice to have a physical activity to occupy the little ones on the day. And something that the grown ups can join in with too.  I'd also consider this a possibility for the present drawer too.
As the website says, with this set you can enjoy the excitement of real table tennis almost anywhere! Foam Mini Tennis Set can be played on virtually any table and the soft foam balls and plastic bats are furniture safe! It is suited to 1-2 players and for ages 8 years and over.
Thanks to babymama at HUKD!